Olympus - one name, one legend.
Olympus is the leading private server, built with the objective to make the game enjoyable again.
The gameplay is designed around the idea of playing with only one character, no alts needed.
Our active and passionate team is composed of well-known veterans who have been working on NosTale private servers for years, which brings a lag-free experience since november 2021.
350+
Unique players online during peak hours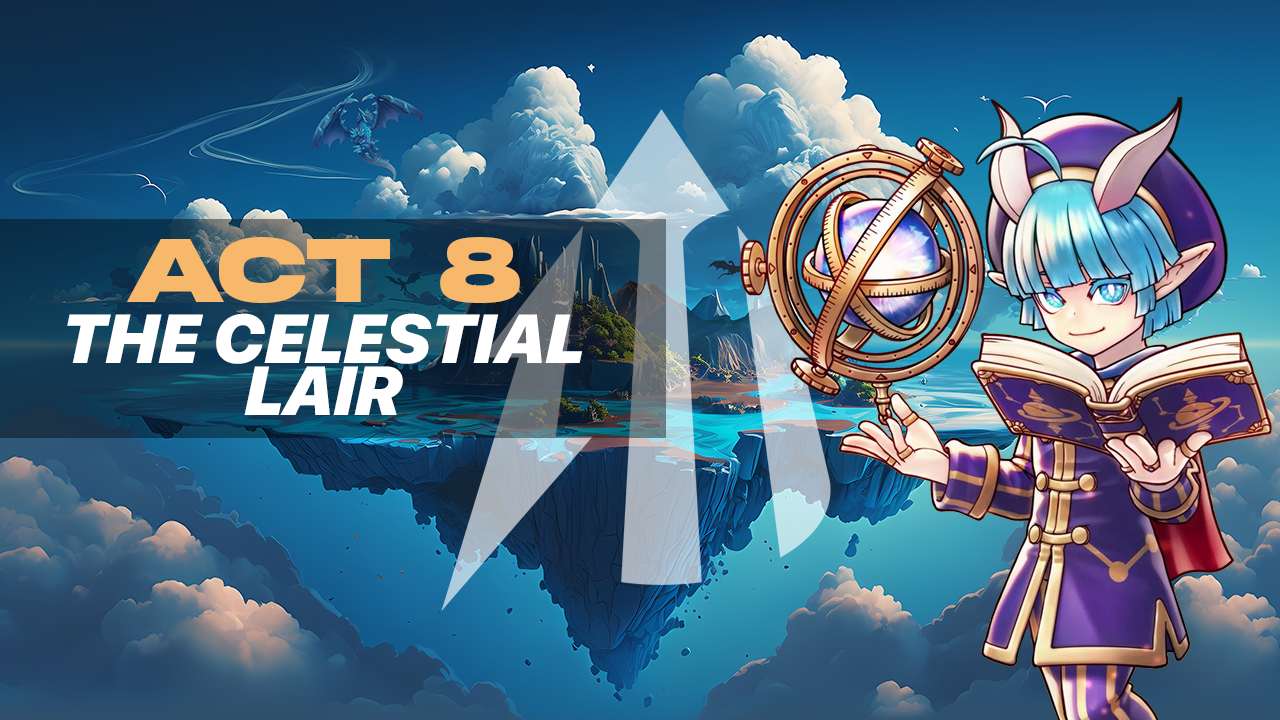 Brand new Act 8
The horrific screams are echoing from somewhere in the sky. The Dragonveil Islands are revealed after many centuries, and they are in crisis. We beg you, hero, to help us against the terrifying Asgobas, who wants to destroy everyone in Dragonveil and gather the magic to rule the world! But beware! Alzanor and Valehir will try everything to stop you from helping the Draconian people. Remember, you have only one chance to save everyone from the dragon's fury. This is going to be an epic, cold-blooded battle!
Learn more
Enjoy the best Martial Artist Experience at Olympus
Ever wanted to try the Martial Artist? Experience the newest class with its 5 SPs working at 100%. Discover each of the changes we've made to adapt it to the Olympus meta below. Don't miss out on the fun!
Learn more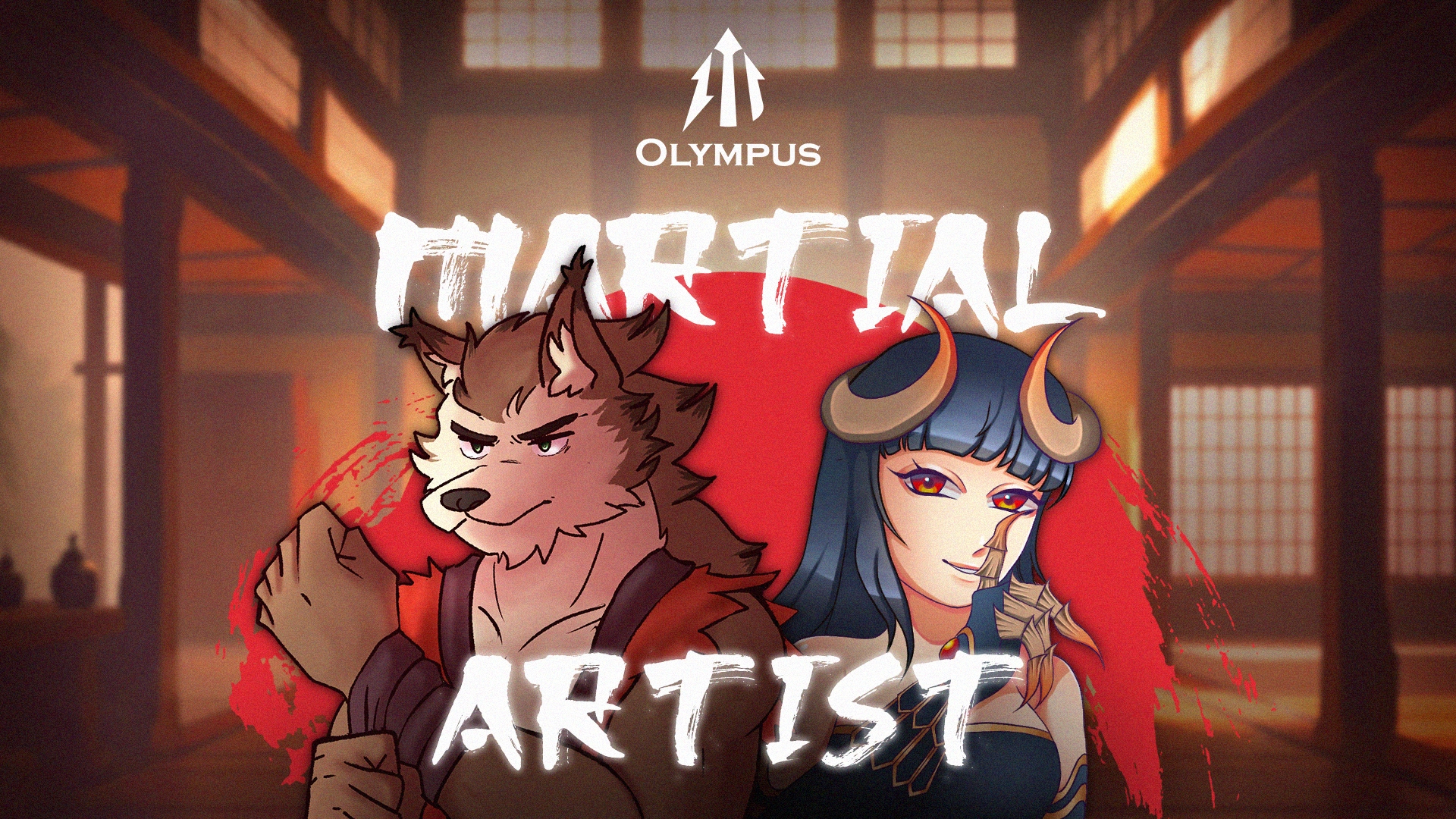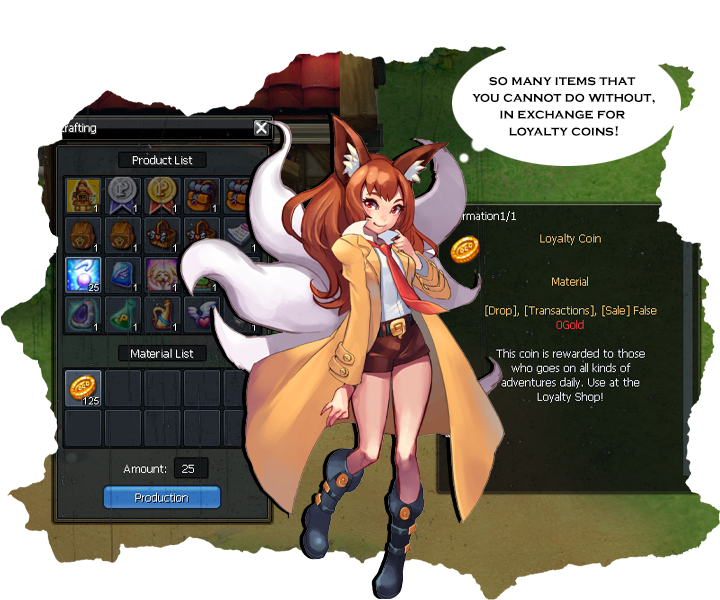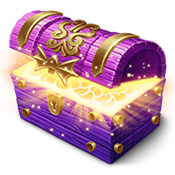 Get rewarded for playing!
Are you a loyal player who values certainty over change? Do you enjoy being rewarded for playing? Our Loyalty system is designed to reward players for their involvement! Nearly every activity in the game earns you Loyalty Coins, which can be exchanged for awesome rewards at Helen's shop in NosVille. The more you play, the more coins you'll earn! Visit Helen's shop and exchange your coins for exciting and useful rewards!
Learn more

No more people taking your lures!
Tired of people ruining your lures? Don't want to fight over maps? Pocket Dimensions solves all these problems! You can now teleport into your own private map in certain areas and farm peacefully. But that's not all! In Pocket Dimensions, you also have the option to automatically collect loot! That means you won't have to slow down to pick up all the gold and items on the floor anymore!
Learn more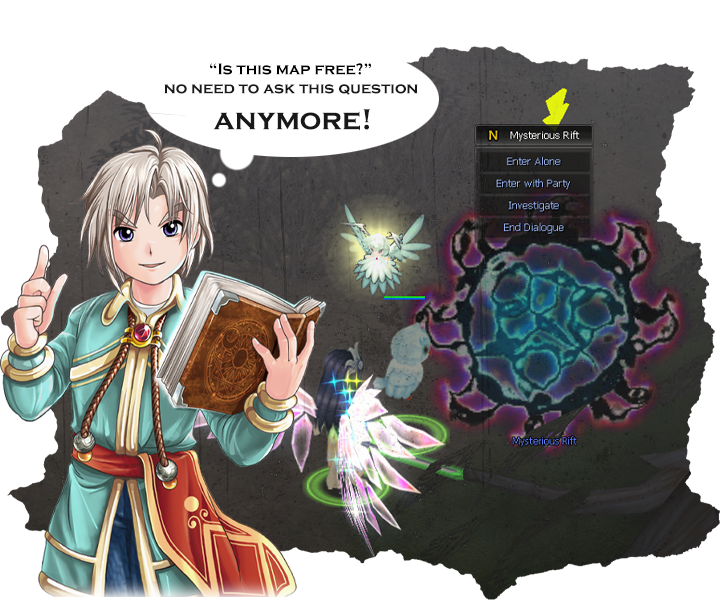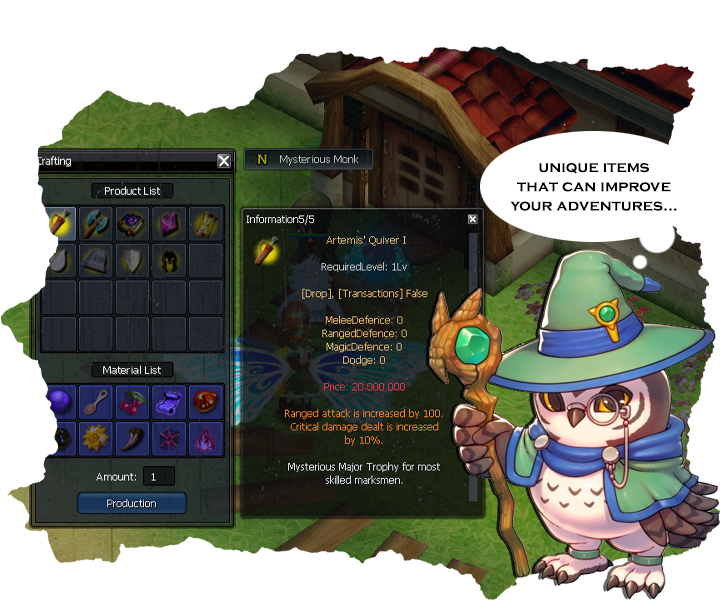 Optimize your character even further
Are you a raiding maniac or just feeling lucky? Looking for new ways to get even more powerful? Then the Trophies might be just for you. You can acquire trophies from most raids by simply running them and opening your Raid Boxes. Each trophy will give you a different bonus, so choose wisely!
Learn more

Too lazy to walk?
Oh no! Is Caligor already dead again? No worries! Missed another Act 4 raid? No worries! With our In-Game notification center, you surely won't miss any event anymore, it will always keep you updated on what is going on! But... what if you are late for an event? We have a solution just for you! Warp system is another way how to travel quickly & comfortably around the continent! You can save up to 7 return points to travel almost everywhere! And the best part? It's completely free!
Learn more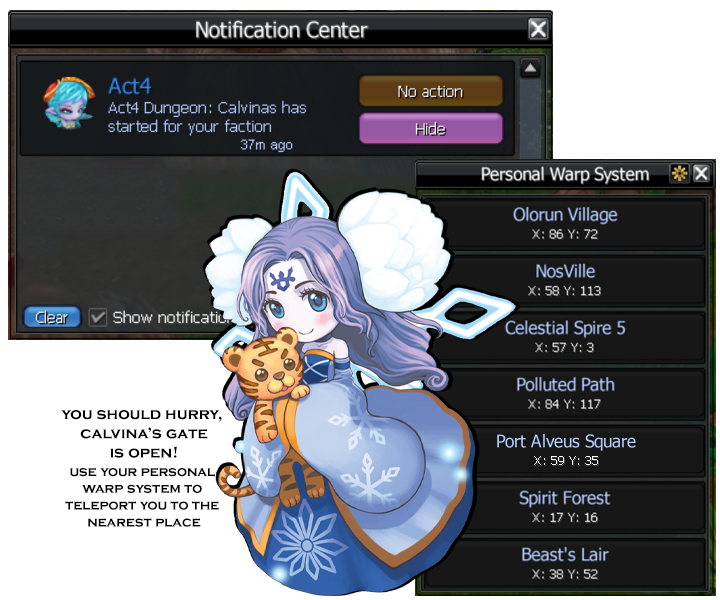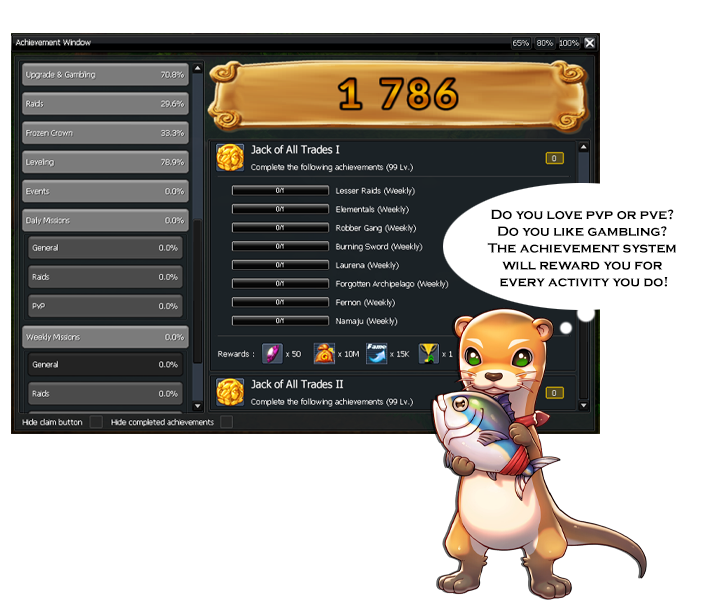 Complete more than 650 challenges
Do you seek new challenges? Are you a grinder? Our unique Achievement system is the feature you're looking for! From the beginning of your journey, you can accomplish all kinds of achievements and get wonderful rewards! And that's not all! Some of these achievements are repeatable, daily or weekly! On certain occasions you can even get a hold of special ones! If this piques your interest, why not try for yourself?
Learn more

Don't ever miss any events!
Do you want to visit Land of Death, but you do not know when it opens? Do you always forget about Caligor? With this feature you can always check ongoing events. Our Event Window shows you when events happen and even for how long they will last! Check it out!
Learn more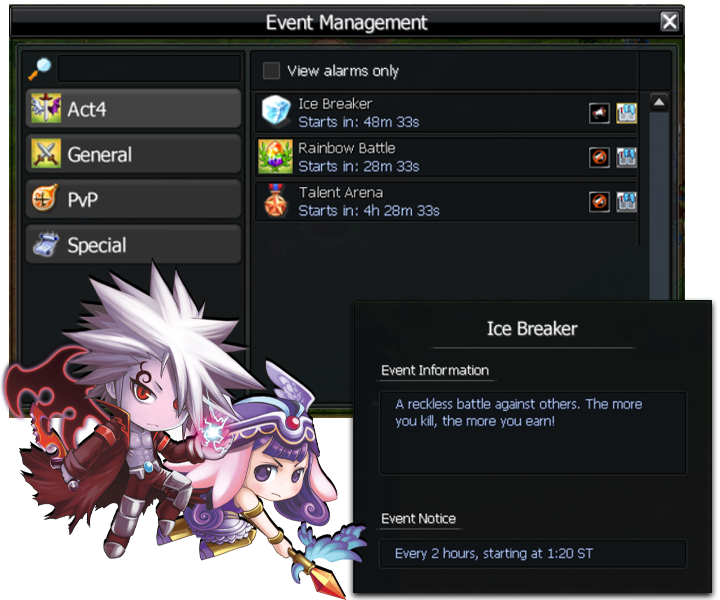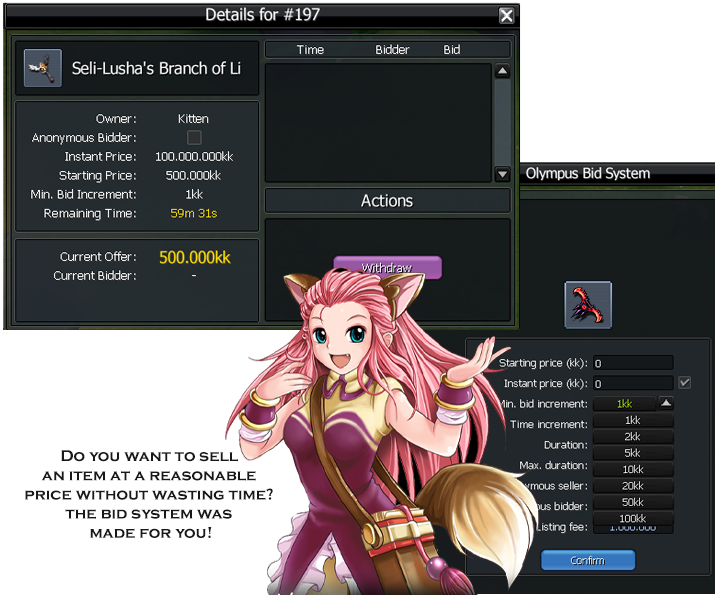 Spamming speakers is not required anymore
No time to check the NosBazaar? You're tired of spamming speakers to sell something in particular? Then the auction house is made for you! With this feature, you are able to offer up your items and other players can place their bids, even in your absence! It's very configurable, so you can set up the time of bidding, price and much more to your liking!
Learn more
And More...
Some small features created to help you during your journey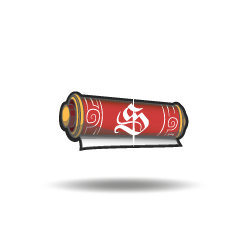 We have some tips for you!
Some of the features that have been added to the game are not found in our guide, instead we have made short videos in which you can learn more about them, click and enjoy the video.
Our players are recommending us!
Before, I suffered from a lot of fake offers on all the things I resell because people hate me, now I don't get fake offers thanks to bidding system, people still hate me though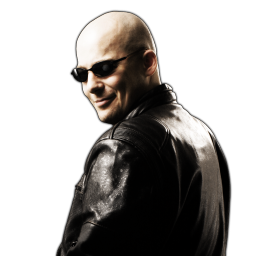 @Webster
Big boi reseller
I counted every single day from the release date of Olympus to the day they released MA, I was worried I would not know how to count above 500 but they released MA before that!

@AguitaDeCoco
MA fanboy
At first I was mad that my multiclients didn't work on olympus, but the wise druid replaced my 10 buff chars I had on official #notsponsored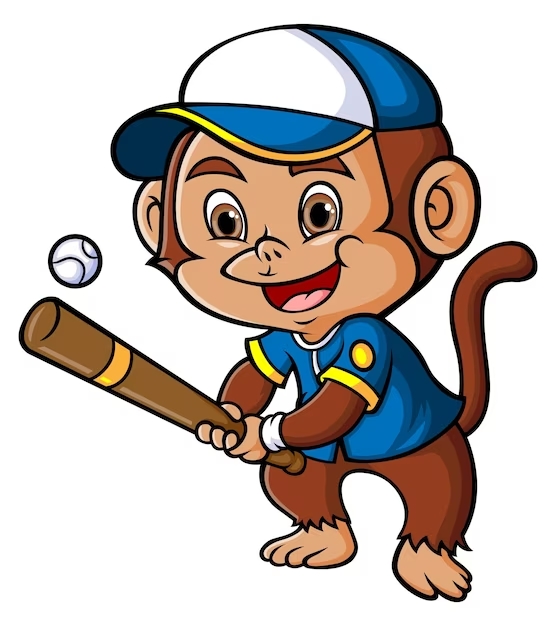 @Anonymous
Typical official player
When I played official, my computer ran out of disk space because I took a screenshot before and after farming to know how much I farmed. I can now see how much I farmed when I'm leaving my map thanks Olympus I won't have to buy another HDD!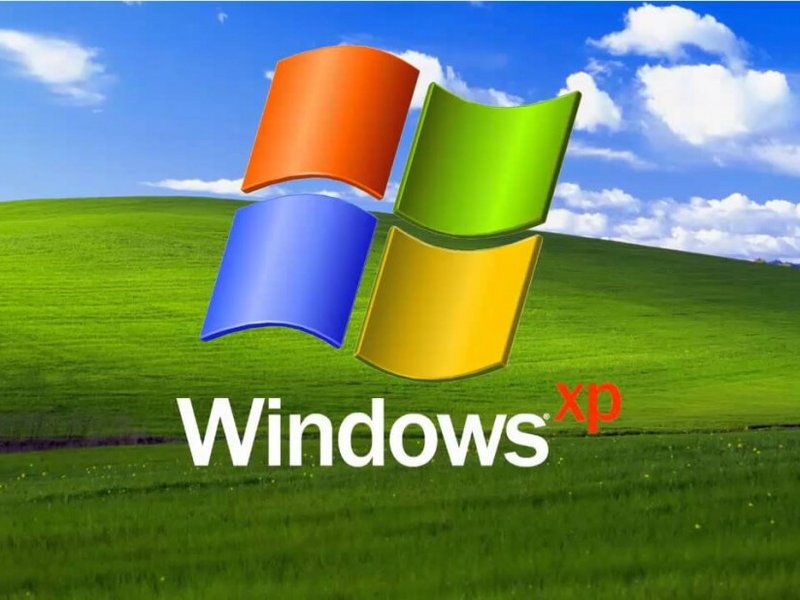 @RandomPlayer
Windows XP user